Our Mission
We are a Catholic Community of faith united in our Love for Jesus Christ. We strive to maintain and carry the message of hope and salvation to others through our works of evangelization and examples of sacramental life.
Our Vision
We will promote a stable Parish with a vibrant, spiritually nourishing, learning environment to grow ourselves and others as disciples of Christ.
Pastor:  Reverend Patrick Connor
Deacons: Deacon Douglas Farwell, Deacon David LaFortune
Parish Mass Schedule
MASS SCHEDULE FOR ST. CATHERINE OF SIENNA
Sunday:  9:00 a.m.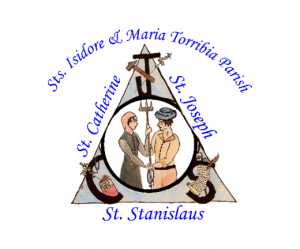 Tuesday: 9:00 a.m.
Saturday: 6:00 p.m.
MASS SCHEDULE FOR ST. STANISLAUS, BISHOP & MARTYR
Sunday: 11:00 a.m.
Friday: 5:30 p.m.
MASS SCHEDULE FOR ST. JOSEPH THE CARPENTER
Monday: 5:30 p.m.
Saturday:  4:00 p.m.
ELECTRONIC GIVING IS BACK!
You can give again electronically to the parish, click here:
---
Electronic Giving for the Catholic Ministries Appeal (CMA)

Once again, you can donate electronically to help the parish meet our goal! This year, the Diocese has aligned the campaign, "I Am With You Always" with the overall Eucharistic revival across the United States.
Our Parish number is 355, and here is the link were you can give:  2022-2023 CMA Appeal Donation.
Note: you can give either via one time, recurring monthly over the campaign, or a sustaining gift (i.e., continues until you cancel).
Here's a link to a 6-minute video (on YouTube) introduced by Bishop Matano explaining some of the many programs your donations support throughout the Dioceses:  CMA Appeal 2023 Video.
THANKS AS ALWAYS FOR YOUR SUPPORT!
---
Parish E-mail Sign Up!
Want to get the latest news and inspirational messages from our Parish?  Just click the link below to sign up for our Parish e-mail list!
---
Support our parish when you shop on Amazon.com. Shop with a Smile at:
and Amazon donates money to Our Parish!
Look for the "Catholic Parish of Saints Isidore and Maria Torribia Steuben" on Amazonsmile.