After everyone had a chance to read the article Patrick asked," is there anything else of interest?"
Our Mission
We are a Catholic Community of faith united in our Love for Jesus Christ. We strive to maintain and carry the message of hope and salvation to others through our works of evangelization and examples of sacramental life.
Our Vision
We will promote a stable Parish with a vibrant, spiritually nourishing, learning environment to grow ourselves and others as disciples of Christ.
Pastor:  Reverend Patrick Connor
Deacons: Deacon Douglas Farwell, Deacon David LaFortune
Adult Vacation Bible Camp
St. John Vianney is sponsoring its first-ever Adult Vacation Bible Camp the week of August 15-19th.  It will be held in O'Malley Hall (next to the Bath Fire Department) from 6-8:30 Monday through Thursday and, to all for a pot-luck dinner on Friday, it'll start at 5pm.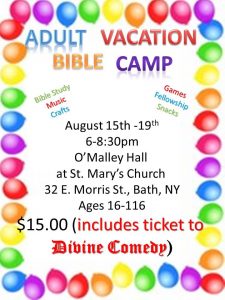 The best news is that Deacon Dan Reynolds from the Syracuse Diocese is going to wrap up the Camp on Friday night (6:30) with his dynamic "Divine Comedy" show!  Dan Reynolds is an award winning professional cartoonist with numerous nationally published books, most recently the expansive series of topical hilarious cartoons and fascinating information, The Funny Side Collection. Dan is a cancer survivor and a loving family man of deep faith. He shares his wealth of humor, wisdom, and faith in the Divine Comedy series. He promises to show the lighter side of our faith and bring joy to all in attendance.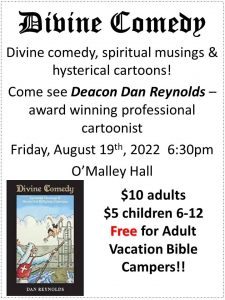 The cost for the camp is nominal – $15, and this includes a ticket to the Divine Comedy show.  Those who just want to come to this not-to-be-missed show can buy tickets for just $10 for adults and $5 for children 6-12.
Thank you so much,
Please contact Kacey Blaney at 607-792-3777.
Eucharistic Revival 2022 – 2025
The U.S. Catholic Conference of Bishops has called on all Catholics to renew our belief in and devotion to the real presence of Christ in the Eucharist.
To read more about the plans for the Eucharistic revival, refer to the June 2022 edition of the Catholic Courier or go to catholiccourier.com or eucharisticrevival.dor.org.
ELECTRONIC GIVING IS BACK!
You can give again electronically, click here:
Parish Mass Schedule
MASS SCHEDULE FOR ST. CATHERINE OF SIENNA
Sunday:  9:00 a.m.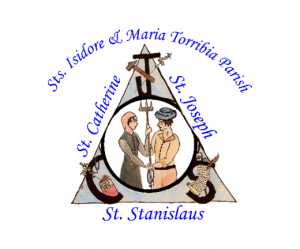 Tuesday: 9:00 a.m.
Saturday: 6:00 p.m.
MASS SCHEDULE FOR ST. STANISLAUS, BISHOP & MARTYR
Sunday: 11:00 a.m.
Friday: 5:30 p.m.
MASS SCHEDULE FOR ST. JOSEPH THE CARPENTER
Monday: 5:30 p.m.
Saturday:  4:00 p.m.
Parish E-mail Sign Up!
Want to get the latest news and inspirational messages from our Parish?  Just click the link below to sign up for our Parish e-mail list!
---
Support our parish when you shop on Amazon.com. Shop with a Smile at:
and Amazon donates money to Our Parish!
Look for the "Catholic Parish of Saints Isidore and Maria Torribia Steuben" on Amazonsmile.