We are a Catholic Community of faith united in our Love for Jesus Christ. We strive to maintain and carry the message of hope and salvation to others through our works of evangelization and examples of sacramental life.
Pastor:  Reverend Patrick Connor
Deacons: Deacon Douglas Farwell, Deacon David LaFortune
---
 Building and Grounds Committee
Every parish within the Diocese of Rochester requires a Building and Ground Committee (BAGC). Within Saints Isidore and Maria Torribia Parish, we're establishing this committee to look into the care and uptake of our three churches and our cemeteries.
     As such, we're asking for two parishioners each from Saint Catherine's, Saint Joe's, and Saint Stan's to serve on the committee for a 3-year term.  We're looking for individuals with general contracting experience who can identify various repairs, speak to contractors, and evaluate contract proposals and costs. Importantly, we're looking for individuals who are not currently serving on other committees or councils.
     Keep in mind that BAGC members will never perform the repairs or projects, but simply identify needed repairs and upgrades for consideration to the Finance Council.
     The head of this BAGC would report directly to the Finance Committee concerning all projects and repairs and may be asked to attend quarterly Finance Council meetings. It's expected BAGC would convene at least quarterly or perhaps more depending on project workload.
    If interested, please contact the Parish Office via this email, or call us at (607) 359-2115.
Thanks in advance for your support.
Saint Stan's in the News!
Saint Stanislaus and our country's flag were recently featured in the Catholic Courier!  Check out the entire article as Flag Day on June 14th and Independence Day on July 4th near!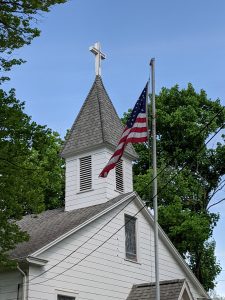 Parish Donations:
---
When you buy online at Amazon, please be sure to shop Amazon
Smile.

Support our parish when you shop on Amazon.com. Shop with a Smile at:
and Amazon donates money to Our Parish!
Look for the "Catholic Parish of Saints Isidore and Maria Torribia Steuben" on Amazon.