We are a Catholic Community of faith united in our Love for Jesus Christ. We strive to maintain and carry the message of hope and salvation to others through our works of evangelization and examples of sacramental life.
Pastor:  Reverend Patrick Connor
Deacons: Deacon Douglas Farwell, Deacon David LaFortune.
Raffle Winners!
The winners of our first-ever raffle are as follows:
1st Prize: Rosemary Austin
2nd Prize: Lisa Caslin
3rd Prize: Nick Ferratella, Sr.
We would like to give a special thank you to Anna Stecket who made the beautiful afghan for the raffle. 
Thanks to everyone who volunteered to sell tickets and make prizes!  And special thanks to everyone who participated by buying tickets.  
Catholic Ministries Appeal 2020-2021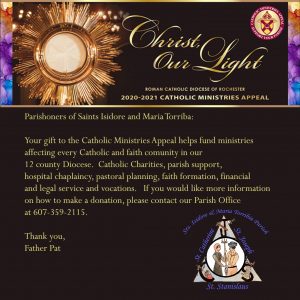 ---
HANDS OF CHRIST RECOGNITION 2021
ATTENTION:  Pastors, Pastoral Leaders, Youth Ministers, Catechetical Leaders, CYO Coaches, Scout Leaders
The Hands of Christ is a recognition program sponsored by the Office of Evangelization and Catechesis to assist parishes in affirming their high school seniors who have been the "Hands of Christ" in their church, home, school, and community. 
The criteria to receive this very special recognition:
Has consistently demonstrated a Christian attitude by word and example.
Has been actively involved in the parish as well as their school or community.
Has been a positive role model to their peers, younger children and adults.
Is a practicing Roman Catholic in a parish in the Diocese of Rochester and attends
Is currently a high school senior.
The process to recognize your honorary high school seniors:
Youth Ministers, Catechetical Leaders, CYO Coaches, Scout Leaders, Pastoral Leaders, or other adults involved with the youth of the parish recommend recipients of the award with approval by the Pastor or Pastoral Leader.  It's recommended each parish develop their own process for this recognition.
 Youth Minister or designated minister compiles recommendations and submits to Pastor or Pastoral Leader for approval. 
Once approval is granted, the youth minister or designated minister must:

Obtain a written response from each approved recipient as to why they see themselves as a Hand of Christ or what it means to be a Hand of Christ. These responses will help us select witness speakers, create a recipient recognition montage, and help plan for the recognition celebration(s).
Enter registration information online

Ensure names and address information are entered accurately.

Use the registration link (below) setup by the Office of Evangelization & Catechesis. 

Retain paper copy for your files.

Mail a check for $25 to the DOR following online registration. Any registration submitted after January 15, 2021 must be submitted in paper form and include a check with the late fee, for a total of $35.
Online Registrations: https://conta.cc/3iCnVm8
Deadline: January 15, 2021 |
Nomination form: 2021 Hands of Christ Nomination Form
2021 Hands of Christ Recognition:
The 2021 Hands of Christ recipients will be recognized at the diocesan and/or parish level at a date to be determined. Recipients who are registered by January 15, 2021 will receive a letter of acknowledgment from the Diocese of Rochester for this nomination and mentioned during a formal recognition at the diocesan and/or parish level.
Donations:
Thank you for your continued support!  Please donate here online.
---
Volunteers Needed for Parish Fundraising Committee
One of our intervention goals, formulated from our recommendation to the Bishop, was to form a Parish Fundraising Committee. To achieve our goal, we need volunteers to serve on this committee.
Currently, we have parishioners from Saint Catherine's and Saint Stan's, and still looking for 2-3 individuals from Saint Joe's.
If you're willing to serve in this capacity, please contact Mark Houck at (607) 592-7611 or houckmarcus@aol.com.
---
When you buy online at Amazon, please be sure to shop Amazon
Smile.
Support our parish when you shop on Amazon.com. Shop with a Smile at smile.amazon.com/ch/27-3050309, and Amazon donates money to Our Parish. 
Look for the "Catholic Parish of Saints Isidore and Maria Torribia Steuben" on Amazon.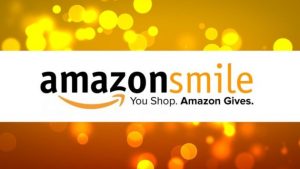 Friday Prayer
Saint Catherine's will continue to be open Fridays from noon to 3 p.m. for private prayer.
---